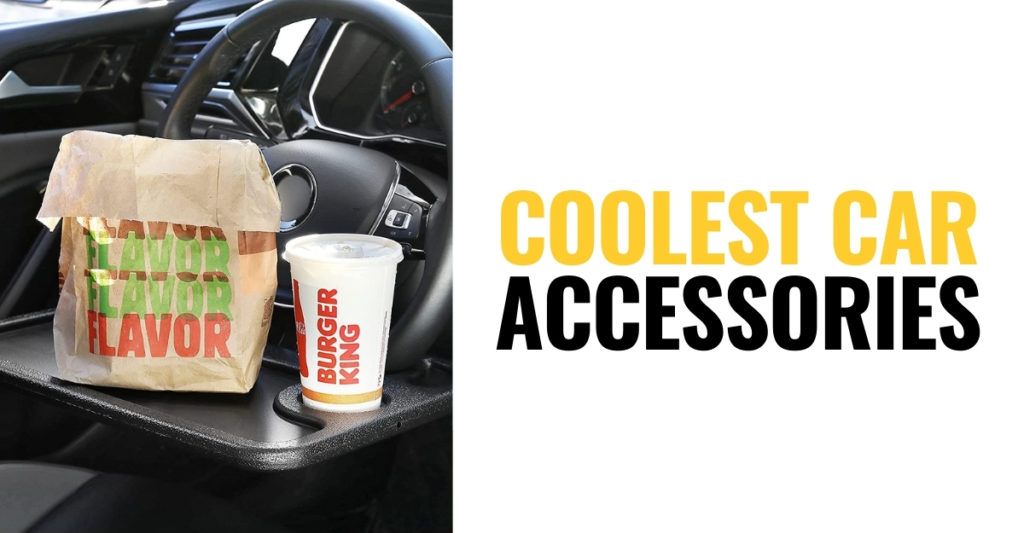 Recently, the only thing that has been on my Tik Tok feed is a bunch of really cool car accessories, and you know how it goes with the algorithm on there– if you like one thing your entire feed is filled with it. So, I've taken it upon myself to compile a list of the best ones I've seen and to hint at you that you should probably go clean out your car. Like right now.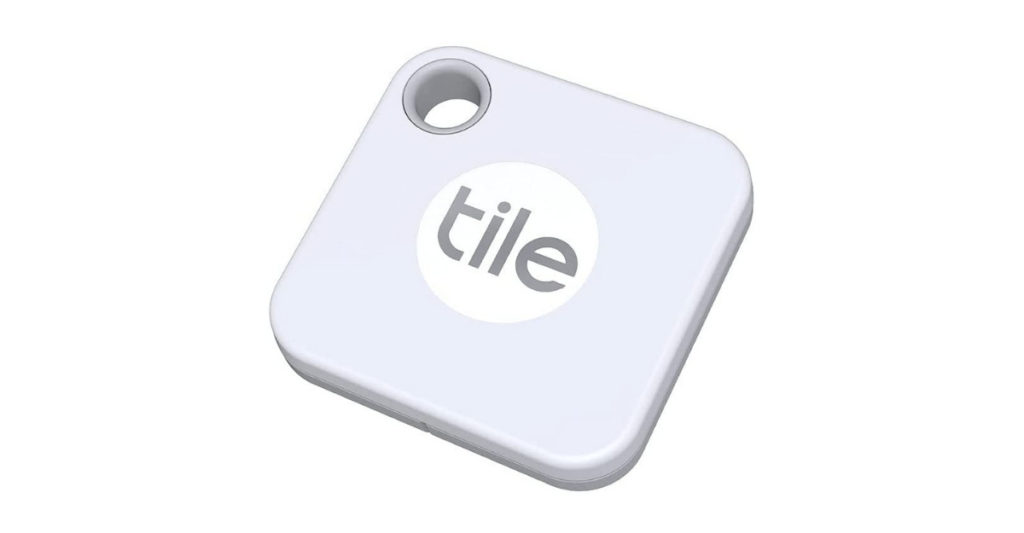 Omg. I'm so proud, you've made the decision you're going to go clean your car. It's a big first step. But wait. You can't find your keys, and this is a weekly, if not daily, occurrence? Don't feel bad. I am the number one person to lose their keys, ask anyone in my life. I got the Tile Key Finder for Christmas last year and it is a lifesaver. You place this little doohickey on your keyring and set it up via Bluetooth with the Tile app on your smartphone. Anytime I'm frantically looking for my keys, I go to the app on my phone, simply press a button and sweet music fills my ears, letting me know exactly where my keys are. If my keys are not within 200 feet, a map in the app will tell me their last known location. I cannot tell you the hours of looking, this Tile Key Finder has saved me. Now you don't have an excuse when your friends want you to drive.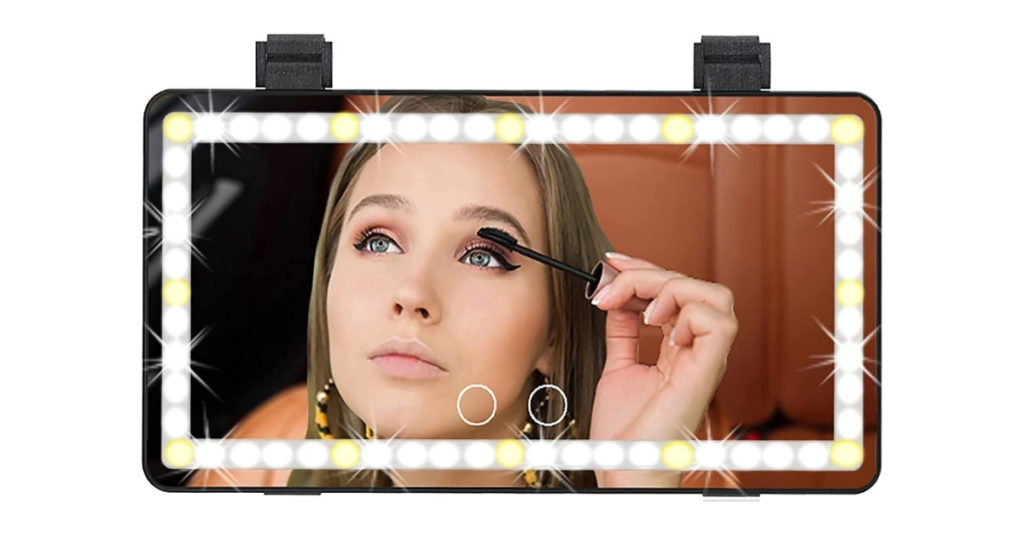 It's an actual disgrace that car manufacturers have not realized that we need a bigger, and nicer, mirror in our sun visor. How are we supposed to even admire what God gave us with a 4×6 plastic thing? I have discovered one of the best things to replace that cheap ol' thing with. This Car Visor Vanity Mirror is a full-on game changer. It fits virtually any sun visor with minimal installation and it has about sixty led lights that line the outside of it. On top of feeling like you are looking into one of those old Hollywood mirrors, it has the technology of the 21st century with a USB charging system, three different options for the lighting, and its touch screen. This mirror will have you sign a petition to have one in every car when you buy it.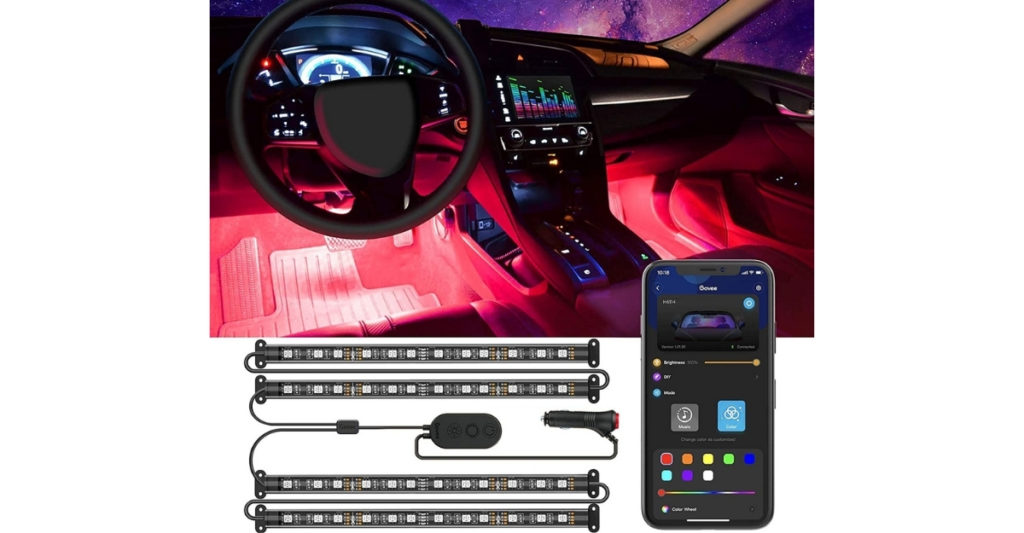 Concerts are slowly coming back and I know you missed the entire atmosphere. Maybe even the sweaty bodies that were entirely too close to you, well maybe not that part. But what about all those lights that go with the beat of the music. The only thing that would make life better is if you could have that in the comfort of your own car… Pause. I'm here to tell you that's possible. My brother has Interior LED Lights in his car, and it completely changes my entire mood when we have long, or even short, car rides. These Interior LED Lights are easy to install and even easier to set up. There is an adhesive on the back of the lights that will keep them in place on even the bumpiest of car rides, and there isn't even a bulky power cord, it's a small car charger that plugs into your charging port. Everything is controlled with your smartphone and offers over 16 million colors, and will sync up to your music. So, go ahead and belt out Driver's License by Olivia Rodrigo like you're a 16-year old that just got her heartbroken.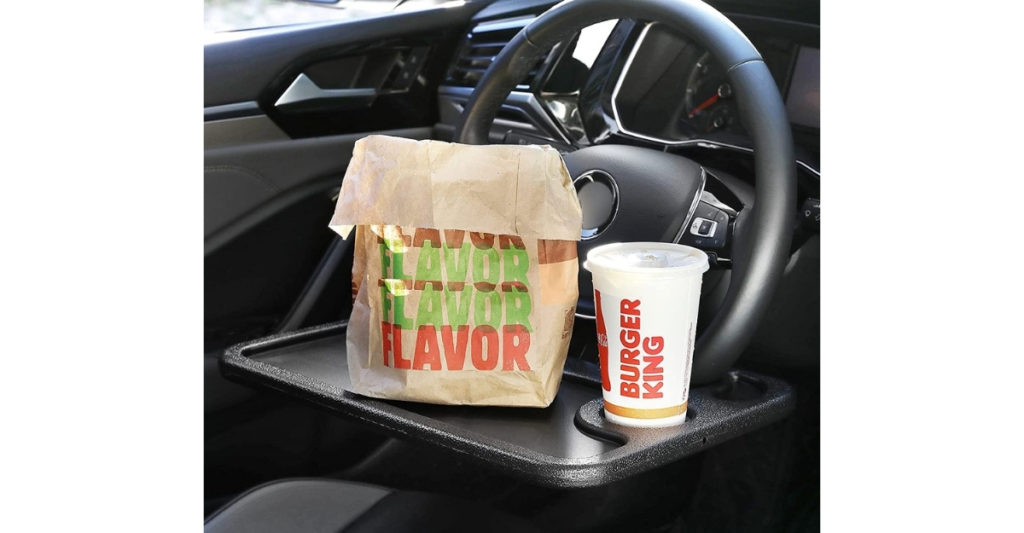 We all eat in our car and if you don't you're probably lying. I mean, I know there are some weirdos in the world that have the "no-food-allowed-in-the-car" rule, which I guess I respect. But, come on, yolo. Let's come to a compromise. What about a little table that clips onto your steering wheel and catches all of your spills and crumbs? Wherever could you find such a thing? Right here, babe. This steering wheel desk is super lightweight so you will barely even notice it's there. And you don't just have to use it for your favorite car meal, it can be used as a desk for when you forgot to send that proposal your boss needs ASAP. It's easy to store under your car seat and it is made of a material that is hard to scuff up and break. Bend the rules a little bit, eat in the car. You'll feel better doing so if you have this.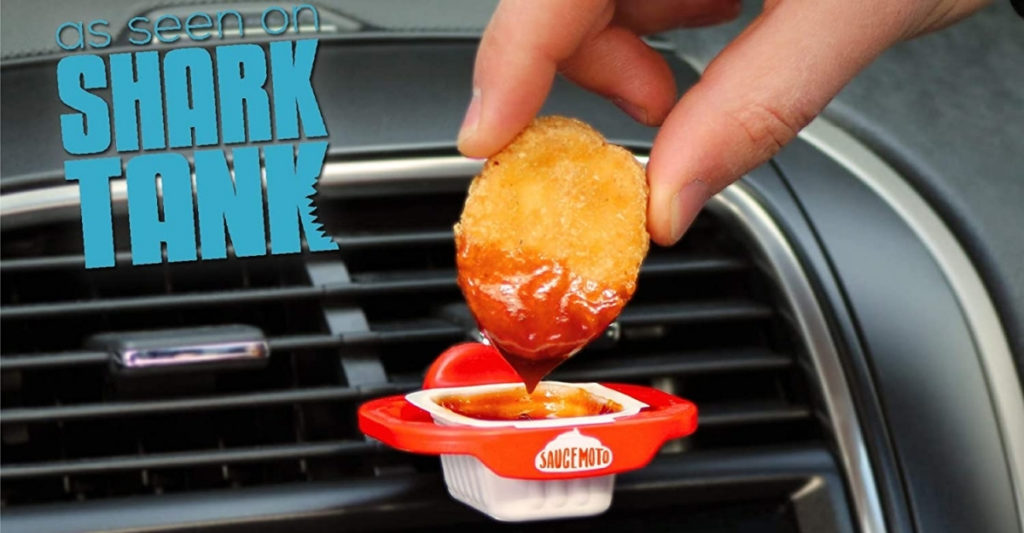 While we're on the subject of eating in your car, go ahead and think about where you put your sauce for your precious chicken nuggets? In your lap, right? Or in the cup holder that is like 5 inches deep. And then it gets everywhere. You break too hard and you all of a sudden have sauce on your steering wheel. Absolutely embarrassing. Here is a contraption that you need– a Saucemoto Dip Clip. You clip one of these bad boys into your preferred air vent and pop your favorite sauce in there. Whoever came up with this invention deserves a Noble Prize for all the gluttonous, impatient people who can't wait to get to their destination to eat. I mean, you've got to eat it while it's hot, duh.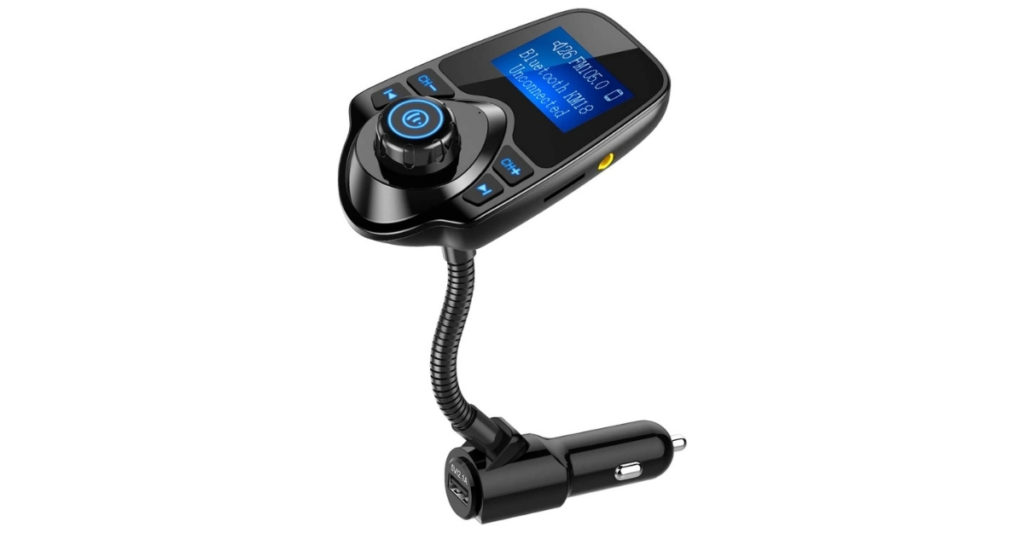 My first car was a standard 1994 SUV that I tragically totaled when I was 17. Let's all take a moment of silence for her. I loved that car, but the worst part about it was that it lacked any type of Bluetooth compatibility. I'll defend her to my death, but that part was a little embarrassing when my friends would get in. And, honestly, it was a little unsafe when I would use the phone with my hands. I wish this Bluetooth FM Transmitter Radio Adapter was around when I had that car. This product syncs up to a certain FM station and it acts as a Bluetooth device that plugs into your charging port. It even has a USB port so you can continue charging your phone. So, it's finally possible for you to answer calls and listen to your favorite song of the week that you've played on repeat a million times.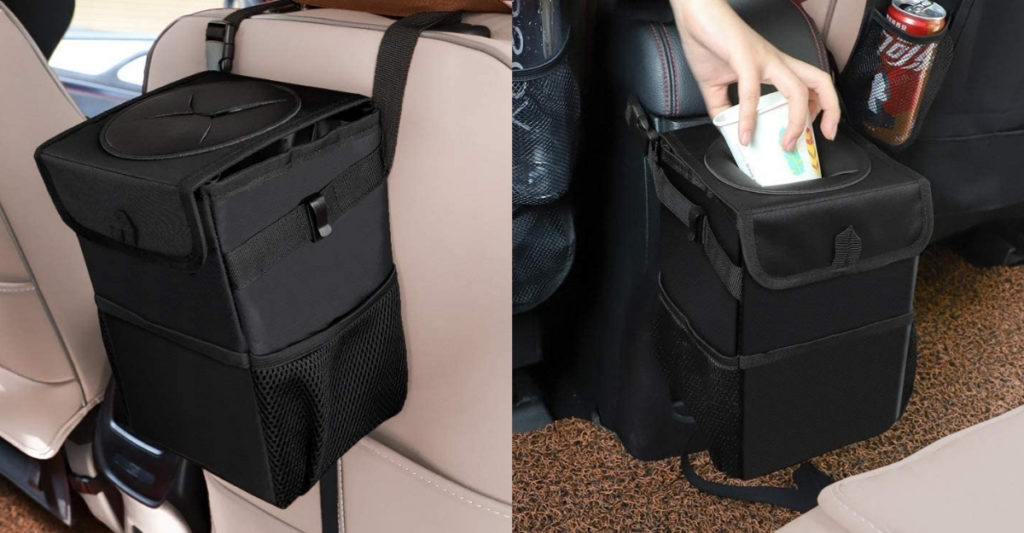 We have come full circle. Remember in the beginning when I told you to go clean out your car, but you actually sat here and read this article? First of all, let me kiss you for sticking around, and second of all, you no longer have an excuse to procrastinate. After you've cleaned out your car, go ahead and grab yourself something that will make keeping it clean a lot easier. This car trash can will change your life. It slips conveniently on the back of your center console and has a flap that will keep all of your trash contained. It even has convenient side pockets so you can put some hand sanitizer there for when you're done stuffing your face with some fast food. The cool thing about this product is that you can put a small trash bag inside of it and when it's full, you simply remove the bag instead of the entire trash can. Now, you no longer have an excuse to leave your car a mess, even though we know it will probably still happen.