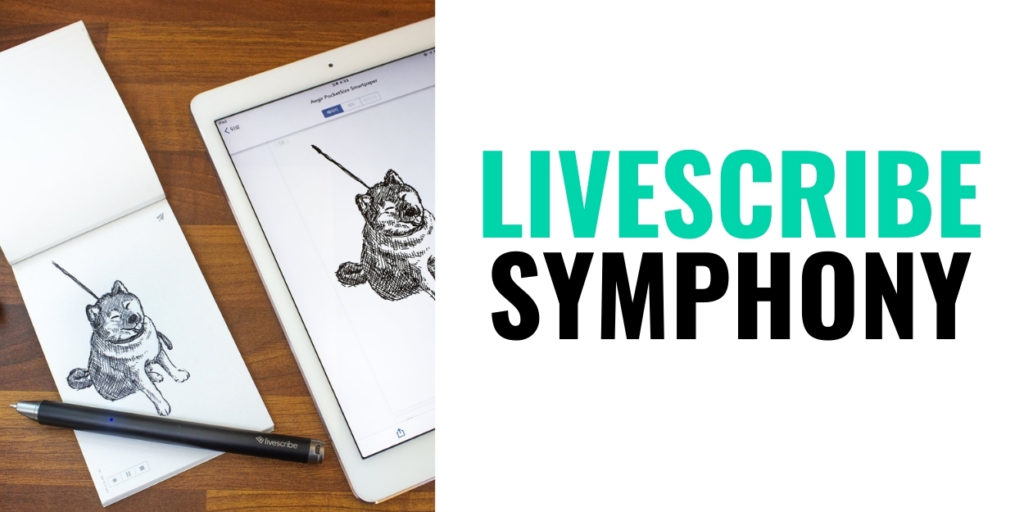 Welcome to The Product-ivity Corner, where we review products that help us work better, faster, and smarter.
Last time, I reviewed the best smart pens of 2021 and gave you the rundown of which smartpens could write for you. But what's a review if I don't actually try it out and see for myself if it really works?
So I clicked on this link and 4 days later the Livescribe Symphony arrived at my front door! I didn't even open it yet because I was waiting for you to hop on and check it out with me! (Watch the unboxing video below)
Ready? Alright, cap your pens, put on your blue light blocking glasses, and toss your Moleskins aside, cuz this article is going deeeeeeeeep on how the Livescribe Symphony works, how well it works, and how you can use it to maximize your work from home (or school from home) efficiency.
Before we start, here's the quick run-down of what the Livescribe Smartpen is and why everyone is raving about it. Skip here to get to the review.
What is the Livescribe pen?
Livescribe smartpens merge your written and typed notes together. Each smartpen features an IR (infrared) camera that takes snapshots of your handwriting.
How does the Livescribe pen work?
When used on Livescribe notebooks, the pen captures your handwriting and syncs straight to the Livescribe+ app where you can turn them into editable text, store them for future reference, and even share online.
In my original post, I was wowed by how this pen was going to compliment my analog and digital ecosystem. Now, let's put it to the test. I'll be reviewing this pen using the original criteria I set out, but with my eyes alert and ready to judge.
Here's the list of criteria we'll be going through today:
Usability
Compatibility & Sync
Pen Features
Notebook Features
Storage and App Functions
Cost (including refills and add-ons)
This pen can record audio?
Let's say you needed this pen for taking notes for Bio 101. Lots of technical terms, chemical formulas, and stuff your professor is saying that doesn't make sense at the moment. So you whip out the Livescribe and start summarizing the lecture. You write down definitions, formulas, drawings of mitochondria, etc…
But you can't keep up. Prof's going too fast. You need to record this before you forget everything!
So on the bottom left-hand corner of your Livescribe Smartpaper, you tap the "record" button then start the recording on your app. Phew! Now you can take notes and focus knowing that even if you can't write down everything, you can review it all later.
During review, you play back the audio while looking back at the notes, adding more to your scribbles, which Livescribe has somehow perfectly rendered on the app. A friend who missed the lecture asks if they can see your notes. "Sure," you say, and you send the pdf straight from the app to your friend through Slack.
That's only one example of how seamless this smartpen can combine your live note-taking with your digital ecosystem.
Some other highlights I found super useful
Smart search – You can search through your handwritten text and editable text and it'll comb through all your results. No more flipping through pages and scribbles to find the right thing.
In-app transcription – Transcribes to over 27 languages right inside the app. Saves you time spent on Google translate
Turns handwriting into text with one button – Yup, no more retyping everything up. Just hit "edit" and it turns all your handwritten notes to editable text. It's pretty accurate, too. Only thing is it doesn't capture my periods right, but no worries, I'll just make them bigger.
Compatibility & Sync beats the competition
Now I will be honest here, I did have some hiccups trying to sync the pen up to the app. It should have been pretty intuitive but it did take me at least 20 minutes to set it up.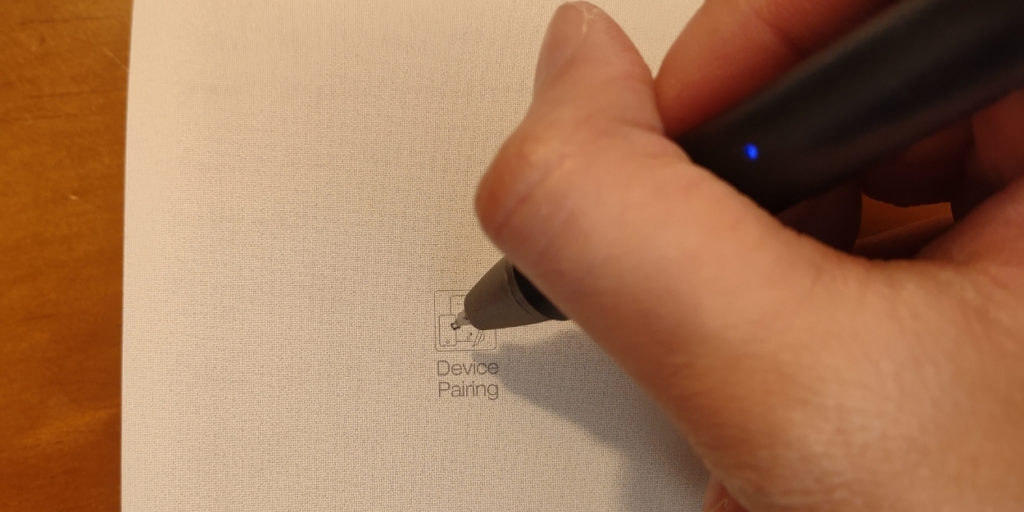 The instructions say to "tap the Device Pairing box" on the Smartpaper (we'll get into how high-tech this paper is below) until you hear a sound. While I did hear the sound, it didn't let me pair the pen to the app. I did this for about 10 times until it finally let me sync.
Aside from the initial hurdle, I had no problems syncing it up afterward. In fact… while I was writing, I could see the app registering my notes in real-time and writing along with me. Harry, is that you? Hello Harry Potter, my name is Tom Riddle. *Shivers in excitement*
Not only is it compatible with my Android, but it also works with iPhones, Windows, Macbooks, and Amazon. (Can I add you to my Chromebook, too? Pretty please?)
Speaking of compatibility, here are some other highlights that were really useful:
Share page – You can share the whole page (notes to friends, coworkers, clients) in PDF, plain text, PNG, DOCX, and even SVG for you artists out there!
Autosend – This allows you to save your notes to your cloud (Evernote, OneNote, Google Drive, Dropbox) For you Note Hoarders out there, this will let you save EVERYTHING!
The Symphony renders a perfect copy of your handwriting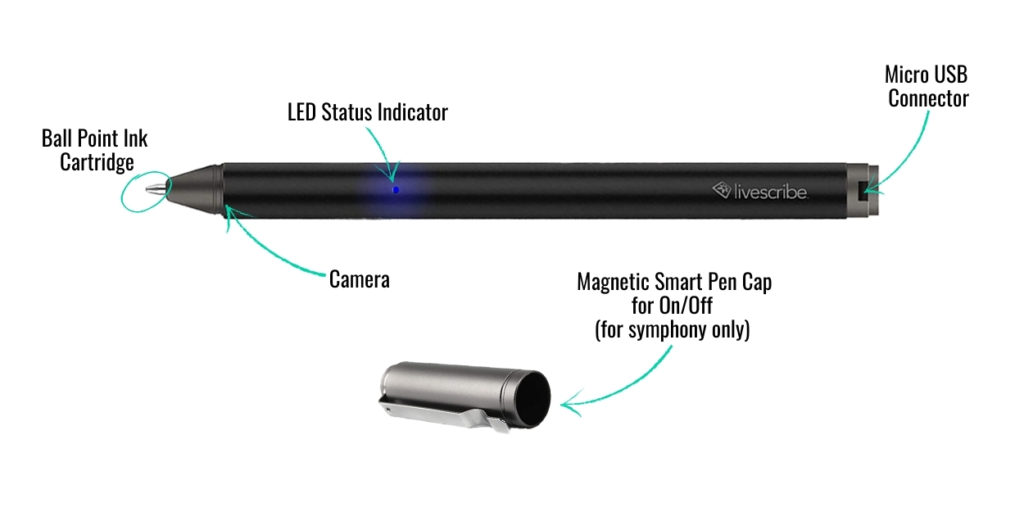 At first glance, the pen looked HEAVY. But when I picked it up and uncapped it, it's about as light as a regular BIC pen. Who'd have thought? It fits comfortably between the fingers and feels well-balanced. I was able to write with it for one hour straight without feeling much strain on my hand.
Because of the camera component, smart pens are known to be quite heavy and uncomfortable to use for long periods of time. While the Symphony is slightly bigger than regular pens, it's just as light, allowing for extended usage. That, I say, is a plus.
You know how I said the Symphony registers notes in real-time? Well, it also captures your handwriting, thanks to a combination of high-tech paper (link to an affiliate link to buy smartpaper) and the camera inside the pen. Each Livescribe pen has an IR (infrared) camera that can capture 72 frames per second, allowing it to take and recreate handwriting. On the app, the page feed looks like a carbon copy of my writing. It even registered my handwriting in different languages!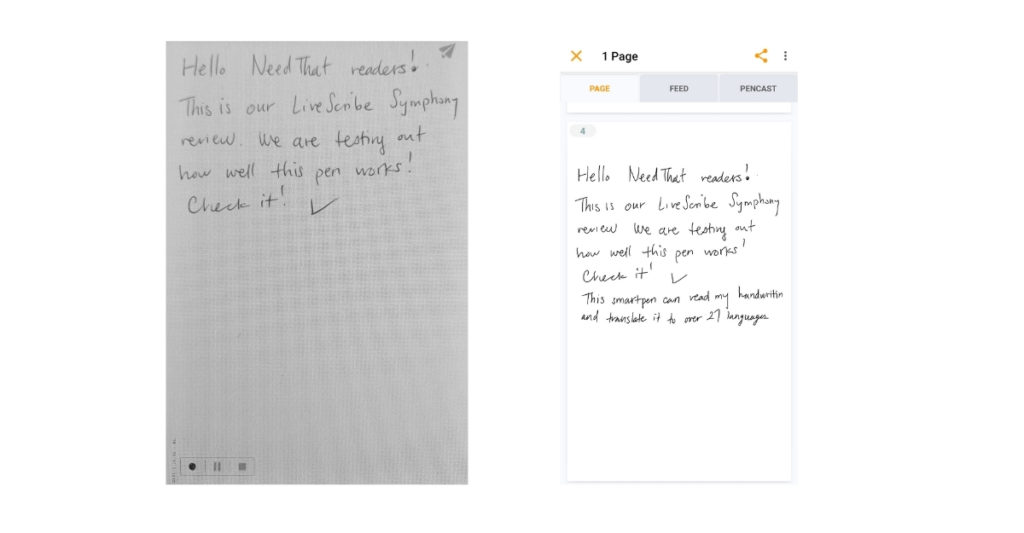 Notebook features high-tech paper in modest coat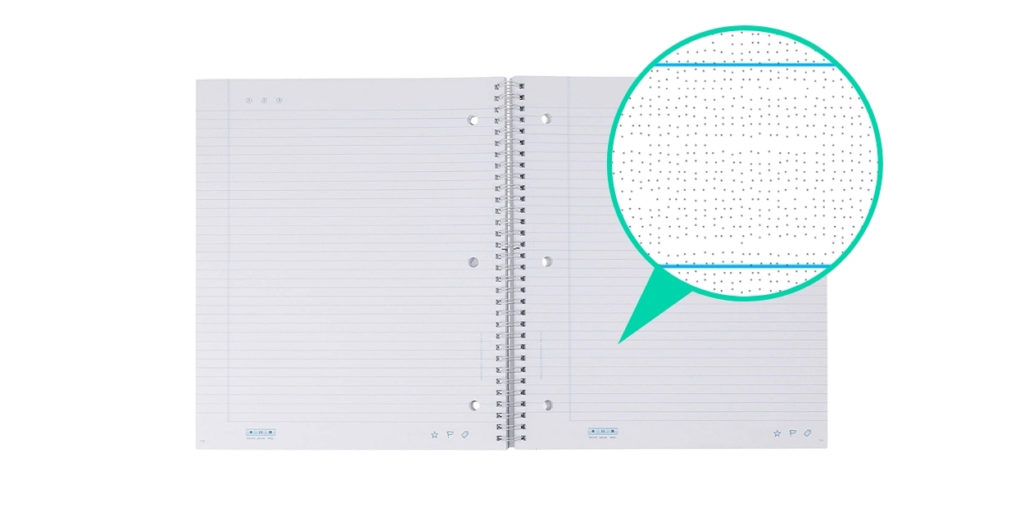 Livescribe notebooks use regular paper but are distinctly different. If you zoom in, you'll see the whole terrain is covered with tiny micro-dots. According to Livescribe, "This pattern is called DPS and works like a GPS for the smartpen."
On top of capturing handwriting, this so-called "Smartpaper" technology, created by Swedish technology company, Anoto, lets us do some pretty neat things with a pen and smartphone:
Record audio and playback recordings
Share your notes
Post on social media *using LiveScribe Social Media Smart Notebook
Create tags for specific pages
Storage and App Functions
The Livescribe Symphony comes with 128MB of memory. That's 1,200 A4 pages of normal writing…AKA a year's worth of notes even for the most prolific writer. And once I connect the app to my Google Drive account, it uploads notes automatically. Meaning, less time organizing, more time writing.
App-wise, it's a clean and easy-to-learn user interface. Once you open it, you see your latest notes in the form of pages on your notebook and feed, which is a line-by-line rendering of your notes. The simplicity allows for little distraction. Tapping the top left button on the app allows you to see your notebooks, PDFs, change language and recording settings, and add your cloud service. Once I figured out how to sync my pen, it's been smooth sailing using the app to make edits to text, add audio, and just review what I've written.
Cost (including refills and add-ons) is reasonable
If you can get past the initial $109 price tag, the Livescribe life is pretty affordable. At $24.95 for 2 lined journals, it's half the price of a Moleskin! Ink refills are $6.95 for 5 cartridges and a pack of sticky notes are $12.95. Just like having regular stationary, except it's smarter.
Smart Pens Comparison Chart
Livescribe Symphony
Rocketbook
Scanmarker
Moleskin
NewYes Smartpen
Neo Smartpen M1
Usability
smart search, in-app transcription in over 27 languages
smart titles, smart search, and email transcription
text-to-speech function while scanning, Recognition speed: 3000 characters per minute. Full line of text within one second
organize with tags, smart search
handwriting recognition in app, editable text, can search keywords, can add voice memo to NEWYES NOTE app
Compatibility
iOS, Android, Amazon, Windows, macOS, syncs with Dropbox, Evernote, Google Drive, OneNote
Google drive, Dropbox, Evernote, box, OneNote, Slack, iCloud, email and more using the free Rocketbook application for iOS and Android
Mac & Windows desktop plus Android and iOS mobile devices
Android & Apple compatible, PDF & upload to Google or Evernote
Mobile only app. Simple set up, Android 5.0 or above and iOS 9.0 or above Facebook, Whatsapp, Instagram, Twitter, and email. It also can save in album and PDF.
Pen Features
72 snapshots/sec, audio recording
Pilot Frixion ink, can use different colors
scan up to 50 languages
notate, share, search, edit, & organize
Notebook Features
single/three subject notebooks, journals, weekly planner, sticky notes
reusable dotted, lined, planner notebooks available in letter, executive, mini sizes
N/A
Ncode technology
Ncode technology (Moleskin uses the same)
Storage and App Functions
Store up to 1200 A4 pages on our pen before you need to sync, save documents as PDF, SVG, text, Docx, img
Send directly to cloud apps
Scan directly to Microsoft Word or the app
audio recording through the app
100MB of internal storage
Comes with
Livescribe Symphony pen (notebook sold seperately)
Includes 1 Rocketbook Core (formerly known as Everlast) Executive Size (6″ x 8 8″) Notebook 1 Pilot Frixion Pen and 1 Microfiber Cloth Note package may reflect "Everlast"
Scanmarker Air
Reference guide
Bluetooth dongle (for wireless connection on Windows, on MacOS it connects to the bulit-in Bluetooth)
USB cable
Pen+ Ellipse digital smart pen, USB recharging cable, 1 pen tip ink refill & user manual (notebook sold seperately)
Comfort
15 seconds to dry
thinner and lighter body.
Battery Life
90 day standby battery life.
short battery life
Formatting
PDF, SVG, text, Docx, img,
Multilingual
Transcribe your notes in 27+ languages.
Features
32 reusable pages, notebook is reusable, wipe with damp cloth. made from Frixion Ink
NO SUPPORT team
3 sizes letter, executive, mini
Attraction
eco-friendly
In Conclusion, TLDR
As someone who geeks out over productivity hacks and practically exists online, the Livescribe Symphony was definitely a great addition to my work. Now during interviews, I take handwritten notes and record the audio. Right after, the newly added pages go straight to my Drive, where I create a new Google doc and start writing up the rest of the copy. If I forget what a certain word is about, I go back to the notebook and tap the word. The app plays back the recording from that point of the text.
In conclusion, the pros definitely outweigh the initial con of setting it up. Get this pen for all your productivity geeking.
This article is solely based on the opinion of the author. This article is not endorsed nor sponsored by LiveScribe or any associated companies.