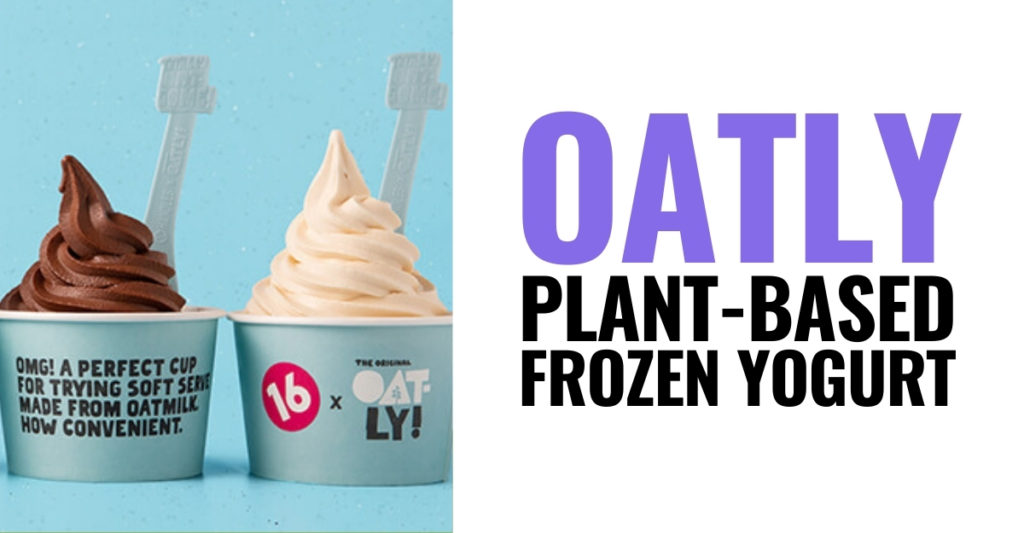 The most exciting news of the summer was recently announced: plant-based milk alternative superstar Oatly debuted their first-ever line of frozen yogurt. Am I overreacting when I say this is the most exciting news ever? Definitely not.
Shortly after their successful stock market launch last month in May, Oatly is bringing excitement and innovation to the plant-based world by launching their vegan frozen yogurts in collaboration with New York frozen yogurt chain 16 Handles. And honestly, we couldn't have asked for a better time for Oatly to release their newest product since summer is coming up and pandemic restrictions are lifting. (Ok, fine — maybe that's the most exciting news of the summer.)
Who Is Oatly?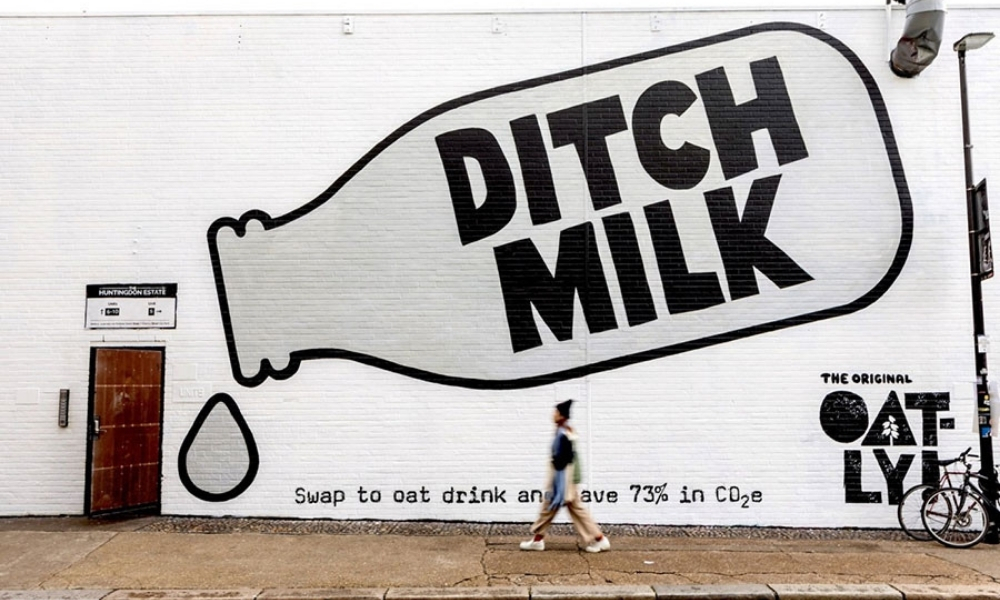 If you haven't had the pleasure of being a target of Oatly ads, I highly recommend you check out their Youtube — I know you'll fall in love immediately. (Here's the one that put them on the mainstream map.) I know, it's weird to persuade people to watch commercials from a company, but that just speaks to the level of creativity and genius Oatly's marketing department has.
Not only is their marketing incredibly likable and fun to watch, but they also have a very bold mission and they're not shy about sharing it. According to their website, "the Oatly way" is this:
"The original idea behind Oatly was to find a way to make a nutritious liquid product for people who just didn't like cow's milk or were unwilling to use it for personal reasons. Today, the concept of producing a drink directly from oats instead of first feeding oats to a cow and letting the cow process them into milk is an option but back when we started in the 1990s most people thought we were totally crazy. That's okay, we are happy to be right where we are now making quality products based on oats for you to enjoy. Thank you very much."
I know! I wasn't kidding when I said they were bold!
This amazing mix of creativity, straightforwardness, and transparency has made Oatly so successful. It's a tactic we've never seen before and this makes them incredibly likable. The new generation of customers appreciates honesty and stories more than ever, and Oatly is nailing the head on that desire.
Oatly x 16 Handles Plant-Based Frozen Yogurt Flavors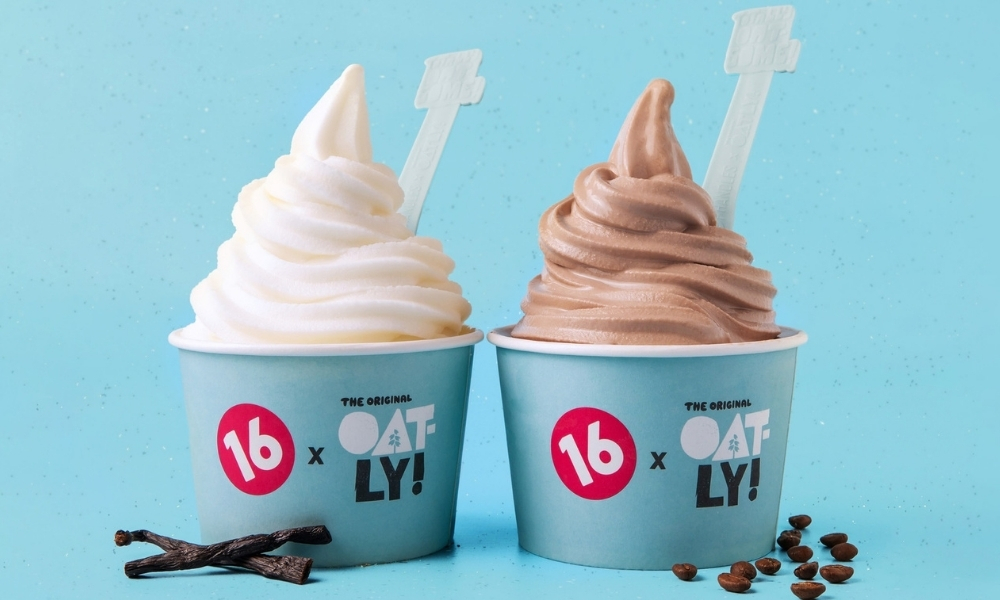 What makes me extra excited about this plant-based frozen yogurt collaboration between Oatly and 16 Handles is that they launched a couple of flavors that aren't just the typical strawberry, vanilla, and chocolate. I guess that's partially a lie because they recently started serving vanilla and they're planning to launch chocolate. But, I still appreciate the effort they're putting into making other, interesting flavors (unlike their ice creams) seeing that they launched an Iced Latte flavor on June 8 and they're planning to launch Chai Tea on July 6. I'm eager to follow this partnership to see if they'll launch any other flavors that are as adventurous sounding as 16 Handle's other vegan frozen yogurt flavors like chocolate hazelnut truffle, cookie dough, or black raspberry.
When reflecting on their collaboration Solomon Choi, CEO and founder of 16 Handles, told one magazine in an interview: "There's no doubt Oatly has been experiencing huge success globally, and in particular, the US market, which is why we are so excited to bring one of their hardest-to-find product lines — Oatly soft serve — to our stores, just in time for summer. There's a lot that 16 Handles and Oatly share — commitments to quality, flavor innovation, sustainability. It's really an ideal collaboration."
Oatly's Recent Stock Market Success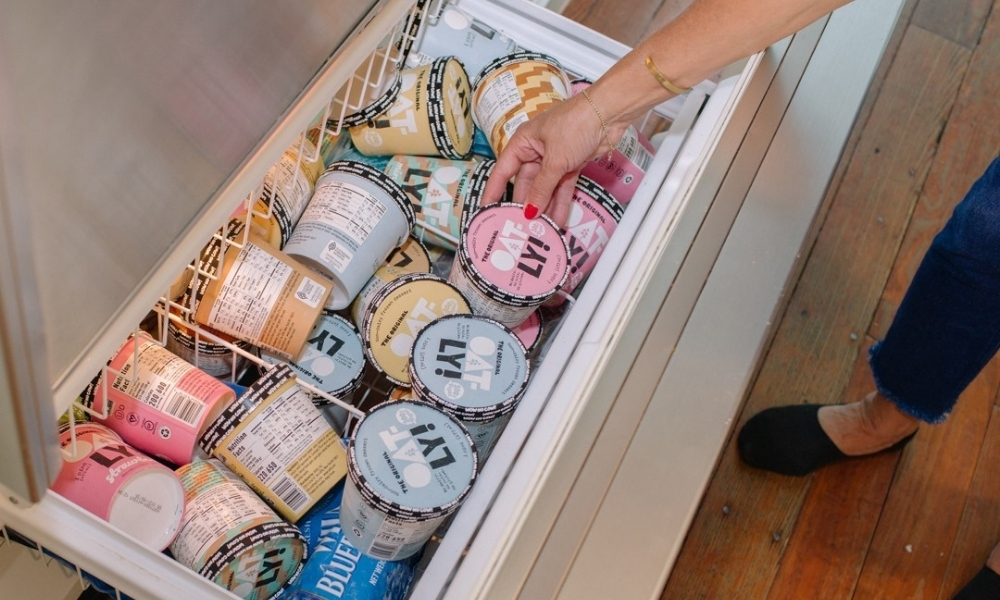 Oatly created a huge buzz when they announced they filed to go public as OTLY in early 2021 because they're not necessarily new to the market. In fact, the company started around 30 years ago. But they seemed to launch at a super opportune time seeing that they raised $1.43 billion when they IPO'd. Each share was $17 and raised up to $22.12 during their launch day! And this makes total sense because plant milk sales are on a steady rise, while cow's milk has been relatively flat.
Oat Milk's Impact On The Environment and Oatly's Sustainability Report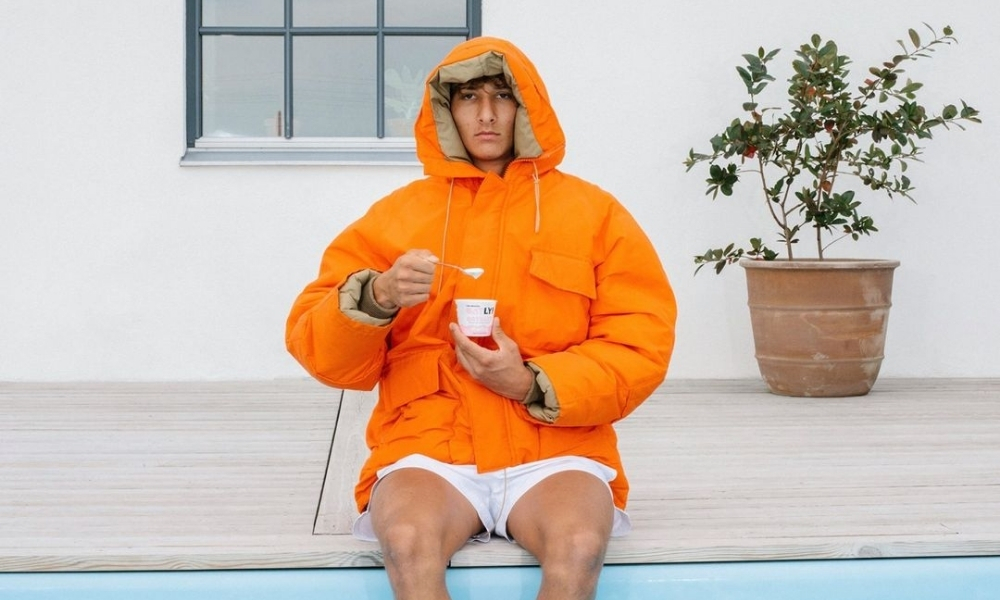 I believe oat milk's tremendous success comes from how sustainable the plant milk is compared to all other alternatives. Consumers are becoming more conscious about the items they buy when it comes to their ethical standpoint and impact on the world, and oat milk definitely checks that box. Soy milk has traditionally been one of the most sustainable milks. I is using about 297 liters of water to produce 1 liter of soy milk, but oat milk blows it out of the water (pun intended) by only using 48 liters of water to produce 1 liter of oat milk. Not to mention, it's the creamiest plant milk on the market, making it the best taste and texture alternative to cow's milk.
The more we can replicate the foods we are used to without the harmful impacts on the environment and the animals, the fewer excuses we have to keep opting for products that are damaging the earth.
This partnership with 16 Handles isn't just for publicity either. In true Oatly fashion, they have an environmental mission behind their collaboration. Together, they'll work to raise money for Trees for the Future, a non-profit organization on a mission to end hunger and poverty by planting trees to regenerate nutrient-deficient land.
Are You Excited To Be A Part Of The Post-Milk Generation?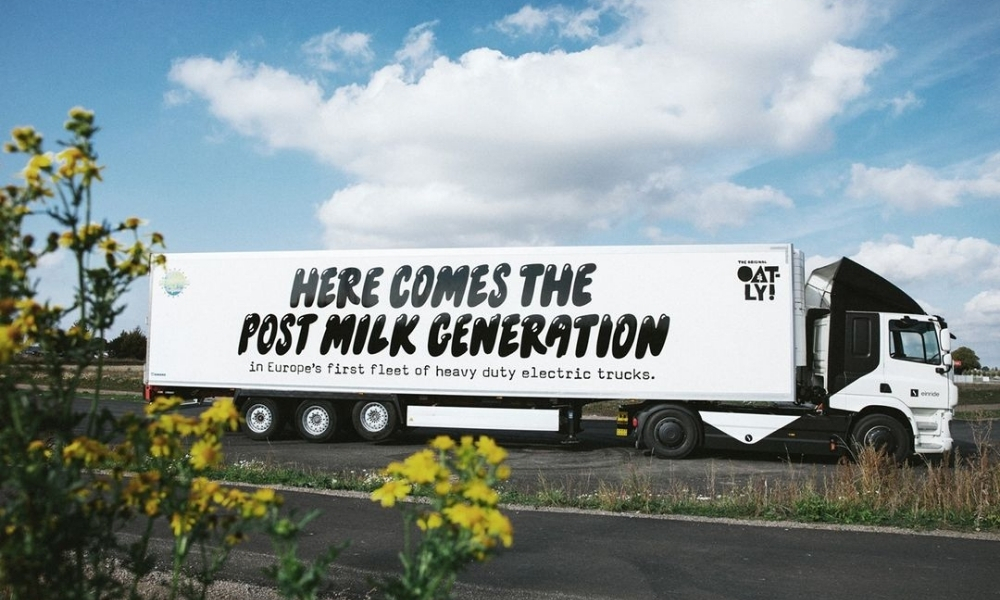 So what do you all think: are you excited to try Oatly x 16 Handles oat milk froyo and the future of plant-based milks? If you tried the frozen yogurt, what did you think of it? Let us know all your thoughts in the comments below!