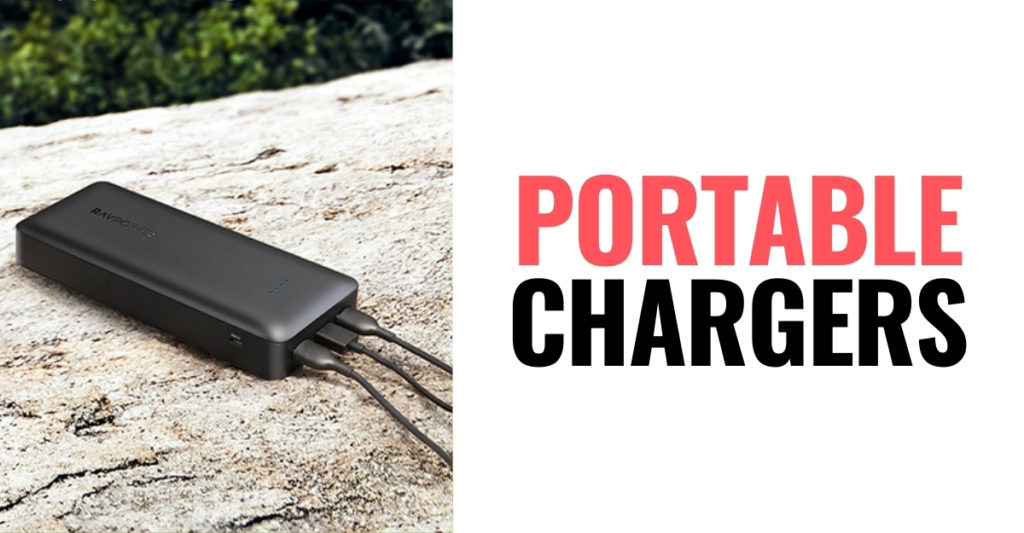 Well, you've done it again: you've let your phone drop to 1%, and you have only seconds to reach an outlet. Let the panic begin!
Thankfully, you're looking into portable chargers to make life easier. Consider these awesome tools as the solution for what ails your phone and other everyday devices: unlimited tasks countered by a limited battery supply.
With that in mind, here are some of the best portable chargers to free your devices from the tyranny of the outlet!
Anker has been in the portable power game for quite some time; having established a solid reputation, it now stands as one of the market's top leaders. Consider Anker to be one of the gold standards when it comes to portable chargers.
One of Anker's top-selling devices is also one of the most subtle. Slim, compact, and lightweight (I'm already envious), the Anker PowerCore Slim 10,000 can slide into the tiniest crannies with ease. Want to shop, travel, dine, or party without worrying about your phone's battery? Then the Anker PowerCore Slim offers the most convenience, easily fitting into purses, bags, or even pockets.
Don't let its humble size and MSRP fool you; this portable charger isn't a pushover. Expect it to charge your phone up to 3 times—quickly too, since it utilizes high-speed charging tech. Oh, and it comes equipped with surge protection, so you won't have to worry about circuits frying!
My go-to and personal favorite. The RAVPower Portable Charger powers your devices and barely breaks a sweat. Sure, it's a fatty with no desire for a beach body, but it can charge phones up to 6 times and tablets up to 4 times (depending on device-specific power requirements). Personally, I get about a week's use of the RAVPower before needing to recharge it.
The RAVPower Portable Charger has 3 USB output ports, so you can charge 3 devices simultaneously. This trio-charging ability is a unique feat, since many portable chargers power only 2 devices at once; in this case, however, being a third wheel gives bragging rights!
Conveniently, the RAVPower has a 4-LED light system that lets users check the charger's battery. Simply put, the LED lights indicate the RAVPower's battery level and let you know when it needs a juice-up.
So, you're incredibly outdoorsy. In fact, you practically belong in the wild, and so does the BLAVOR Solar Portable Charger. Its name says it all: a portable charger that uses sunlight to power itself (though you can still charge it via traditional AC to wall outlets). It's a power brick that even a squirrel can use.
Equipped with its very own solar panel, the BLAVOR recharges just about anywhere outdoors, be it during a stroll through Hollywood Boulevard or sitting on Mount Fuji's peak. If you frequently engage in outside activities like camping or hiking, then there's no travel companion quite like the BLAVOR Solar Portable Charger.
Still, being an outdoorsy device, it's got to have even more outdoorsy features: a built-in flashlight, an included compass, dust and water resistance, and even Qi wireless charging to keep your journey untethered.
Meet one of the most popular goliaths of portable power the market has ever seen. The HALO Bolt 58830 Portable Charger is for those who are serious about power—why else would anyone consider a portable charger that can jump start a boat? Seriously, the HALO comes with jumper cables that'll let you jump start cars, boats, ATVs, and more!
Granted, you won't be sliding the HALO into your pockets—you'd have better luck fitting an elephant into spandex— but you'll be carrying a godsend (hence the name Halo?). One Amazon reviewer even questions their entire existence prior to owning the HALO: "How did I ever live without this?"
One of the most attractive things about the HALO is that it has an AC outlet; just about anything you can plug into the wall can be plugged into the HALO without a USB adapter (though it has USB ports too). I've seen people use the AC outlet to power fans, lamps, and even Nintendo Switches.
Oh, and the HALO's AC outlet can even charge laptops (dependent on device-specific power requirements), making it a handy power brick for students and office workers on the go—heck, the HALO lets you bring the entire office on the go, so why not?
In Conclusion, TLDR
You've got tons to do, and you rely on everyday devices like your phone, tablet, or computer—especially amidst a pandemic—to get things done. So why not make life easier by ensuring that you're powered no matter what?
For most audiences, either the Anker PowerCore Slim 10,000 or the RAVPower 32,000 will suffice. They'll keep your devices alive, and let you go about your day worry-free.
On the other hand, if you're one with nature, then you're best served by checking out the BLAVOR, since it'll both provide and obtain power while you rest in your tent—even if you're miles away from the nearest outlet.
And if you'd like to have a ginormous, godly power brick in your hands, then hats off to the HALO Bolt for ensuring that your devices and vehicles make it through the day.
So, are you ready to untether? Then go ahead and choose amongst only the finest portable chargers to power you through the future!